Register Today! Limited Seats Available So Don't Delay.
Synovial Joints: Common Disorders and Internal Derangements - March 24-27, 2022
Join Dr. Donald Resnick and colleagues in this 4-day virtual conference comprised of in-depth lectures, case reviews, and opportunities for live Q&A.
This CME activity provides radiologists with a practical overview of the use of MR imaging and MR arthrography in the assessment of synovial joints with a focus on the most common articular disorders and those internal derangements that are encountered daily in clinical practice.
Through targeted lectures and real-world case reviews, learners will get an in-depth understanding of the various types of human articulations and, with regard to synovial joints, the many diverse structures contained within them, including articular cartilage, subchondral bone plate, subjacent bone, synovial membrane, joint capsule, and intra-articular menisci, tendons, ligaments, and labra. Experts will walk through effective search patterns and how to distinguish between normal variations and pathologic abnormalities.
Radiologists will leave the conference with the skills needed to:
Accurately assess MR images in patients with articular disorders and internal derangements
Describe the anatomic features of human articulations, the structures contained within them, and the abnormalities associated with specific articular disorders
Detail diagnostic findings and differential diagnostic considerations for a wide variety of articular disorders, especially in synovial joints, that are encountered daily in clinical practices employing MR imaging
Accurately identify and communicate those findings that require the immediate attention of the referring physician
Recommend the appropriate application of standard MR imaging and MR arthrography to the assessment of common and uncommon disorders and derangements of synovial joints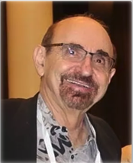 Donald L. Resnick, M.D. - Program Director
Professor Emeritus of Radiology, University of California, San Diego
Dr. Resnick has written over 1,100 scientific and educational articles (more than 100 published in Radiology), 72 book chapters, and 16 books on musculoskeletal radiology. Dr. Resnick is a renowned lecturer, having given over 50 named lectures throughout the world including the Wilhelm Conrad Roentgen Honorary Lecture at the European Congress of Radiology and the Ho Hung Chiu Medical Education Foundation Lecture in Hong Kong. His list of dozens of awards and honors includes the American Roentgen Ray Gold Medal, Diagnostic Imaging Magazine's 20 Most influential People in Radiology, Medical Imaging Industry's Top 10 Radiologists, twice-awarded AuntMinnie Most Effective Radiology Educator, and an Honorary Doctorate from the University of Zurich. IN 2018, ACR bestowed the Gold Medal on Dr. Resnick for his lifetime achievements.
Session Topics
Dr. Resnick will present four didactic lectures each day followed by co-faculty lead case review and q&a time.
3/24/22 - 5pm-9pm ET
Cartilage, Subchondral Bone, Menisci, Discs, Labra, and Fat Pads
Supporting Structures Including Tendons / Ligaments and Sesamoid Bones and Ossicles
Synovial Fluid, Synovitis, Hemarthrosis, Lipohemarthrosis, and Synovial / Ganglion Cysts
Synovial Plica


3/25/22 - 5pm-9pm ET
Bursitis
Tenosynovitis, Adhesive Capsulitis, and Intra-articular Bodies
Rheumatoid Arthritis
Spondyloarthropathy (SPA)


3/26/22 - 1pm -5pm ET
Crystal-Induced Arthropathy
Septic Arthritis, Osteoarthrosis, and Neuropathic Arthropathy
Pigmented Villonodular Synovitis and Synovial Chondromatosis
Intra-articular Tumors and Tumor-Like Disorders


3/27/22 - 1pm-5pm ET
Transient Osteoporosis and Transient Marrow Edema
Osteonecrosis
Stress Fractures
Chondral, Osteochondral, and Subchondral Fractures


Accreditation
Accreditation Statement
MRI Online is accredited by the Accreditation Council for Continuing Medical Education (ACCME) to provide continuing medical education for physicians.
Credit Designation Statement
MRI Online designates this live activity for a maximum of 16.0 AMA PRA Category 1 Credits™. Physicians should claim only the credit commensurate with the extent of their participation in the activity.
Commercial Support
There is no commercial support for this activity.
Webcast Requirements
System requirements
An internet connection – broadband wired or wireless (3G or 4G/LTE)
Speakers and a microphone – built-in, USB plug-in, or wireless Bluetooth
A webcam or HD webcam - built-in, USB plug-in, or:
Learn more about Zoom system requirements here.
About the Co-Faculty
Dr. Donald Resnick is excited to present with:
Dr. Rodrigo Aguiar
Dr. Rodrigo Aguiar completed his Radiology Residency at the Federal University of Paraná, Brazil, and Musculoskeletal Imaging subspecialty training at UCSD - EUA. He is on the Musculoskeletal staff at DAPI-PR and Hospital das Clínicas - Federal University of Paraná.
Dr. Carlos Longo
Carlos Longo completed his Radiology Residency and MS Imaging subspecialty training at Hospital das Clínicas da Universidade de São Paulo in1992. Fellowship in MSK at UCSD in 1994. 1994_2002:Senior MSK Radiologist at Rede D'Or.
Dr. Marcelo de Abreu
Dr. Marcelo de Abreu completed his MSK Imaging subspecialty at UCSD. Since 2002, he has been on the MSK staff at the Hospital Mae de Deus and the Head of Radiology since 2016.
Dr. Abdalla Skaf
Clinical fellow - Pitié Salpêtrière - Paris (France)
Research fellow UCSD - USA
Head of the Department of Diagnostic Imaging Hospital HCor - São Paulo
Medical Director of ALTA diagnostics (DASA group)
Medical Director of teleimagem