Horizontal Meniscal Tear
Horizontal meniscal tears (also known as cleavage tears) are oriented in a way that they run horizontally parallel to the tibial plateau.
3
They can involve the inner third of the meniscus (white - white zone), middle third (red - white zone), outer-third (red - red zone), or all three zones, so-called trizonal cleavage tear.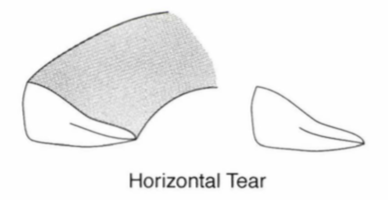 Horizontal Meniscal Tear: Pearls
Horizontal tears are frequently degenerative, but can be traumatic, and are more common laterally.

2

These tears may be difficult to see on arthroscopy.

3

In older patients, especially with altered femoral-tibial conformity or flattening, "closed horizontal cleavage signal" is common.
Horizontal Meniscal Tear: Clinical Presentation
True horizontal cleavage or split tears are unrepairable but important to recognize. They are common in discoid menisci, some communicating with articular surface (50%) and some noncommunicating (50%) or closed. Both are usually symptomatic and eventually rupture the complete discoid meniscus into two halves, one half of which may migrate, flip or twist. Radial component tears often accompany cleavage tears in discoid menisci.
Horizontal Meniscal Tear: Treatment
It is important to describe the involvement of the inner (white-avascular) through outer (red-vascular) zone since the management usually involves arthroscopic debridement and saucerization of the torn zones of the meniscus to establish a stable meniscus rim when tears are large or unstable. However, most cleavage tears are left untreated.
Horizontal Meniscal Tear: Example
This 41-year-old male presents with a horizontal meniscal tear (images 1 and 2). Horizontal tears are typically degenerative in origin and usually seen in adults older than 40 years old. This type is the most commonly seen meniscus tear. The tear usually starts as free (inner) edge fraying, and propagates toward the periphery of the meniscus. Increased signal will run parallel to the tibial plateau. Horizontal tears most commonly involve the body and posterior horn of the lateral greater than medial. If the tear is full length and "splits" the meniscus, the inferior fragment may displace and cause meniscal subluxation. If a displaced flap is seen, the tear is called a horizontal "folded" flap tear. They may be primarily intrameniscal, and may have only a tiny area of communication with the articular surface. Horizontal tears can be difficult to visualize on arthroscopy. They have the highest incidence of association with parameniscal or intrameniscal pseudocyst formation. Such cysts are usually anterolateral more common than posteromedial.
Lateral meniscus cysts from cleavage tears are usually:
More anterior

Smaller

More often painful

Less likely to migrate



Medial meniscal cysts are more often:
Giant

More often posterior

Painful

More likely to migrate




Differentiation from a normal vascular pedicle at the outer zone of the meniscus, particularly in younger patients, is important.
Vascularity in the meniscus is (a) window framed by low signal, (b) most conspicuous in the outer meniscal third, (c) more prominent in the pediatric population, (d) slopes gently toward the tibial surface from posterior to anterior, (e) fades in the middle and inner third of the meniscus.
Horizontal tears are often associated with chondromalacia and osteoarthritic changes. They are best and most commonly seen on coronal views in the lateral meniscus body.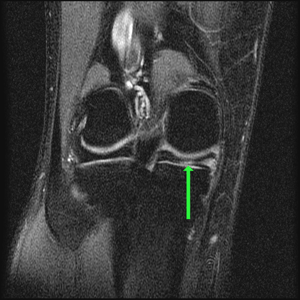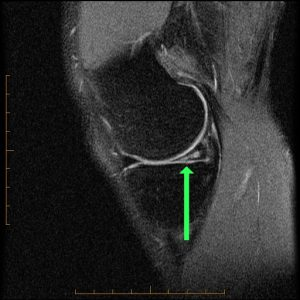 Image 1 - Coronal PD Fat Sat Image 2 - Sagittal PD Fat Sat
Horizontal tears are seen as thick, linear signals involving the inner
two-third
zones and often the outer one-third ("
trizonal
or inner, middle and outer third"), and extending from the mid-posterior horn to the mid-body of the medial meniscus, and as seen frequently, involves the lateral meniscus body, especially in older patients. Image 2 (arrow) demonstrates thick linear signal communicating with the inferior surface.
Horizontal signal within the meniscus may not always be a tear; non-communicating horizontal intrameniscal signal may be intrameniscal degeneration or a normal diffusion phenomenon through its radial fibers. One should consider signal intensity, communication with the femoral or tibial articular surface, status of surrounding tissues, and patient history to classify horizontal meniscal signal. Inner third meniscus horizontal or cleavage signal is always abnormal!
As stated previously, a normal variant of hyperintense horizontal intrameniscal signal is meniscal hypervascularity, found in adolescent patient
s (see case 2 below). This will
usually be seen as thick intrameniscal signal which does not communicate with the articular or capsular surfaces, differentiated from tear by the lack of signal communication, patient age, ill-defined signal margins in meniscus outer third, and usually history will not be consistent with a meniscal injury.
Case 2
In the images 3 and 4, this patient is a 13-year-old female with generalized knee pain and no known injury. The arrows indicate the increased horizontal signal of the medial meniscus posterior horn. Note the thick appearance of the signal and "window framing" (no communication with the articular or capsular surfaces). This is meniscal hypervascularity of the adolescent meniscus, not a true horizontal or flap tear. Care should be taken in the adolescent patient to avoid unnecessary arthroscopy or surgical procedures for normal vascularity. In an adult, as indicated above, normal signal may communicate with the peripheral capsular surface.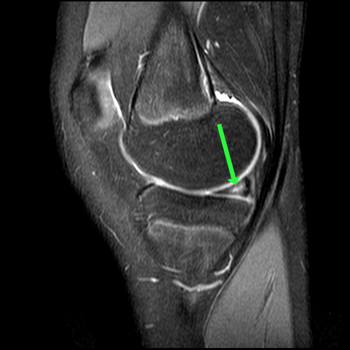 Image 3 - Sagittal PD
Normal prominent intrameniscal signal in adults is associated with the following signs:


Hypointensity surrounds meniscus on all but capsular peripheral surface
Signal does not equal hyaline cartilage intensity
Always fades on T

2

No articular surface communication

Spares meniscus inner one third

Slopes gently downward

Often bifurcates peripherally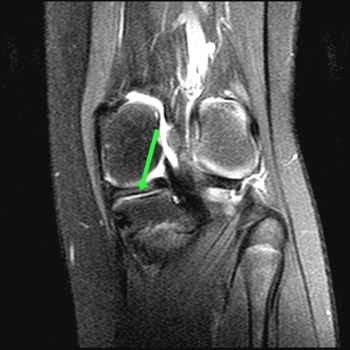 Image 4 - Coronal T2 SPIR
Other causes of non-tear intrameniscal signal besides diffusion along radial meniscal fibers and pediatric hypervascularity include:

Contusion:

You should see adjacent bone and / or cartilage injury

Have a history of trauma

Degeneration

Meniscus is usually small with adjacent chondromalacia and femoral condyle

Meniscal ossicle

Intrameniscal cyst

Bright T2 with meniscal expansion
Horizontal Meniscal Tear: Appendix
Pathology: Associations
Discoid meniscus

Most common tear associated with a meniscal cyst

1
Some tip-offs to horizontal tears that need attention:
The tear is trizonal. The inner, middle and outer third with either:
Intrameniscal cyst
Parameniscal cyst
Parameniscal swelling


The patient is young, with a history of acute trauma and:
No degenerative disease AND

Signs of surrounding bone/cartilage contusion or fracture

Deduced or reported history or symptoms of axial load

Pain IN compartment commensurate with the horizontal signal
Horizontal Meniscal Tear: References
Clinical MR Imaging: A Practical Approach. Springer. ISBN:3662495988.

Pomeranz SJ. Gamuts & Pearls in MRI & Orthopedics. Ohio, The Merten Company, 1997.

Weerackkody Y, et-al. Horizontal Meniscal Tear: Radiopaedia (sourced 10Jan2018):

https://radiopaedia.org/articles/horizontal-meniscal-tear